Hola ladies and gents... for those of you looking for more of my pretty face (and some behind the scenes shots of production) here they are!
I won't get into detail on each shot, but, I did want to comment on a couple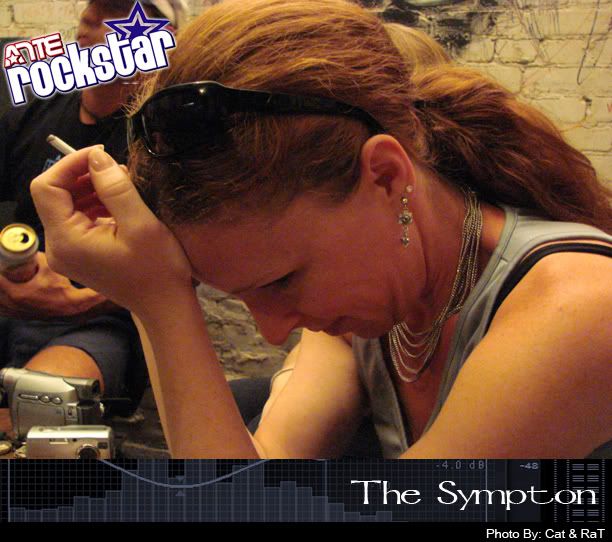 This one was taken just prior to starting taping. Kevin insists that we have a shot of me singing, which we will shoot tomorrow....
My buddy John (another great drummer, can't WAIT to show HIM to you...) had this to say about it when I showed it to him earlier:
JRED - 30+ beers later! says:
well, the main thing i don't like about it is that whatever you're doing... whether it's your taxes.. writing a test... or just trying to figure out a crossword, it looks like you are stressing over it... at least to a point. that's fine.. but...
JRED - 30+ beers later! says:
being as that is the main focus of the picture... simply, a less of a busy background would have helped it out a lot more. you blend in too much with the guy waiting for a train, or whatever the hell he's doing. every gap of the picture that shows the background... the 3 corners and through the arm... there is something different in each one.
Anterockstar says:
I was about to go on
Anterockstar says:
trying to centre myself... in all that
Anterockstar says:
yes, I was stressed out about it
JRED - 30+ beers later! says:
that's fine.. just, it's you that the picture should be trying to show is stressed.. not your environment. it's not much, but i wouldn't have took the photo. well, unless i was just fucking around and not trying to find that generic "kodak moment" that all wannabe photographers want
John insists that I can't look natural if I'm aware of the camera. I've asked him to come out and take my pic and prove me wrong, cause I like to think I do. I did know the camera was there, I just didn't know when it was going to go off. If you look closely, I am looking right at it.
Haha... this was one of my faves from the night, the final shot. THIS is what I look like drunk *wink*
In the mood for more? Head out to our
photo pages
.....
comments: Leave a comment